2017
---
TORONTO, ONTARIO - Aug 24, 2017 - Americas Silver Corporation (TSX: USA) (NYSE "MKT": USAS) ("Americas Silver" or the "Company") is pleased to announce initial results from recent exploration drilling on its 100% owned Zone 120 deposit, adjacent to the San Rafael development project, part of the Cosalá Operations property in Sinaloa, Mexico.

Highlights of the program include:
Step-out hole SR-396 with 61.4 meters grading 306g/t Ag, 0.23g/t Au and 0.79% Cu (412g/t AgEq) including 5.9 meters of 932g/t Ag, 0.82g/t Au and 1.94% Cu (1,213g/t AgEq) plus another interval of 9.4 meters grading 479g/t Ag, 0.29g/t Au and 1.07% Cu (622g/t AgEq)
Step-out hole SR-401 with 39.6 meters grading 205g/t Ag, 0.28g/t Au and 0.53% Cu (289g/t AgEq) including 11.4 meters of 473g/t Ag, 0.68g/t Au and 1.20% Cu (659g/t AgEq)
Infill hole SR-391 with 22.81 meters grading 138g/t Ag, 0.22g/t Au and 0.37% Cu (196g/t AgEq2) including 4.0 meters of 460g/t Ag, 0.20g/t Au and 0.88% Cu (575g/t AgEq)
Infill hole SR-392 with 18.1 meters grading 113g/t Ag, 0.08g/t Au and 0.17% Cu (138g/t AgEq)
"We are very encouraged by the initial success of this drilling," said Darren Blasutti, President & CEO of Americas Silver Corporation. "Not only did the infill drilling increase the confidence of the existing resource at Zone 120, but the step out drilling to the southern extension confirms our geologists view of a larger, more robust system which could extend to the El Cajón deposit."

2017 Cosalá Exploration Program

Exploration drilling resumed at the Cosalá Operations property for the first time since 2014. Starting in April, an initial eight hole, 4,000 meter diamond drill program at Zone 120 was focused on upgrading the existing resource3 as well as expanding the footprint of mineralization to the southeast. Following up on the success of step-out hole SR-396, the Company drilled an additional 2,000 meters in four holes to test continuity of the mineralization. Detailed exploration results from the drill program can be found on the Company's website at americassilvercorp.com. Assays from hole SR-402 are still pending.

1 True width
2 Silver equivalent (AgEq) grade is calculated using prices of $16.00/oz Ag, $1200/oz Au and $2.50/lb Cu.
3 December 31, 2016 estimate reported at Measured and Indicated resources of 1.8 million tonnes grading 128g/t Ag and 0.35% Cu (7.3Moz Ag and 13.7Mlbs Cu contained).
Hole
From
(m)
To
(m)
Interval
(m)
True Width
(m)
Ag
(g/t)
Au
(g/t)
Cu
(%)
Ag Eq
(g/t)
SR-391
41.5
63.0
21.5
20.0
107
0.44
0.20
162
Including
49.8
55.0
5.2
4.8
237
0.91
0.34
341
SR-391
96.2
100.1
4.0
3.7
175
2.12
1.40
488
SR-391
115.6
140.1
24.6
22.8
138
0.22
0.37
196
Including
117.0
121.3
4.3
4.0
460
0.20
0.88
575
SR-391
151.2
172.4
21.3
19.8
127
0.10
0.35
173
Including
165.8
170.0
4.2
3.9
285
0.23
0.75
387
SR-392
78.0
97.0
19.0
18.1
113
0.08
0.17
138
SR-392
109.7
122.6
13.0
12.3
110
0.13
0.25
148
Including
118.6
121.9
3.3
3.1
221
0.21
0.66
311
SR-393
7.0
25.0
18.0
6.4
1083
0.54
0.04
1126
SR-393
27.9
43.1
15.2
5.3
86
0.37
0.16
131
SR-393
117.0
121.8
4.8
4.4
130
0.43
0.36
202
SR-393
130.6
134.5
3.9
3.6
112
0.15
0.67
200
SR-393
148.7
154.0
5.3
4.9
151
0.13
0.37
203
SR-395
221.7
243.3
21.6
20.7
73
0.11
0.21
104
SR-396
308.0
317.4
9.4
9.4
79
0.04
0.19
105
SR-396
368.1
429.5
61.4
61.4
306
0.23
0.79
412
Including
387.5
393.4
5.9
5.9
932
0.82
1.94
1213
Including
406.7
416.1
9.4
9.4
479
0.29
1.07
621
SR-400
268.0
273.6
5.6
4.7
182
0.22
0.50
256
SR-400
277.6
291.0
13.4
11.2
87
0.07
0.19
114
SR-400
297.4
306.6
9.2
7.7
111
0.09
0.23
144
SR-400
378.0
396.3
18.3
15.3
88
0.14
0.11
111
SR-400
411.3
418.6
7.2
6.0
133
0.51
0.09
181
SR-401
275.7
315.3
39.6
39.6
205
0.33
0.53
289
Including
303.9
315.3
11.4
11.4
473
0.68
1.20
659
SR-401
327.5
351.9
24.4
24.4
190
0.28
0.53
271
Including
344.5
349.0
4.5
4.5
535
0.80
1.52
766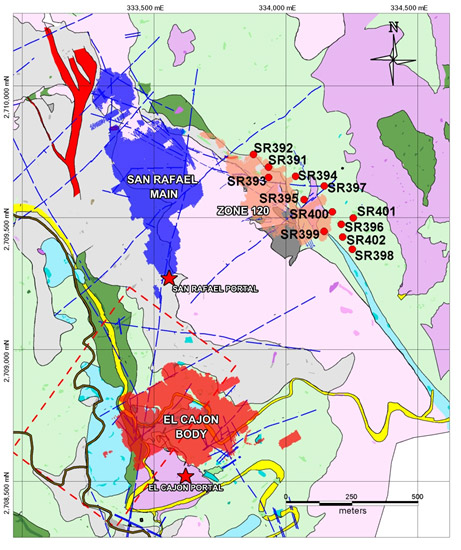 Silver-copper mineralization is hosted in limestone adjacent to a large intrusive and related dikes which underlies most of the area shown in the map above, including the approximately 500 meter unexplored gap between Zone 120 and El Cajón. Mineralization occurs in discreet horizons and lenses of tetrahedrite and chalcopyrite localized in structural traps created by dikes and contact irregularities of the intrusive. Additional drilling in 2017 is planned to extend and further define the mineralization as well as to support economic and technical studies aimed at evaluating potential development scenarios. The potential project will benefit from its close proximity to the San Rafael deposit, currently in development.

Drill core samples are prepared at the Company's secure facility in Cosalá, Sinaloa. Assaying was done by Chemex Labs in Hermosillo, Mexico. The Company has a QA/QC program supervised by a Qualified Person.

About Americas Silver Corporation

Americas Silver is a silver mining company focused on growth in precious metals from its existing asset base and execution of targeted accretive acquisitions. It owns and operates the Cosalá Operations in Sinaloa, Mexico and the Galena Mine Complex in Idaho, USA. The Company has acquired an option on the San Felipe development project in Sonora, Mexico.

Daren Dell, Chief Operating Officer and a Qualified Person under Canadian Securities Administrators guidelines, has approved the applicable contents of this news release. For further information please see SEDAR or americassilvercorp.com.

Cautionary Statement on Forward-Looking Information:

This news release contains "forward-looking information" within the meaning of applicable securities laws. Forward-looking information includes, but is not limited to, the Company's expectations intentions, plans, assumptions and beliefs with respect to, among other things, the realization of exploration, operational and development plans (including the successful completion of the San Rafael Project and further exploration and development of Zone 120), the Cosalá Operations and Galena Complex as well as the Company's financing efforts. Often, but not always, forward-looking information can be identified by forward-looking words such as "anticipate", "believe", "expect", "goal", "plan", "intend", "estimate", "may", "assume" and "will" or similar words suggesting future outcomes, or other expectations, beliefs, plans, objectives, assumptions, intentions, or statements about future events or performance. Forward-looking information is based on the opinions and estimates of the Company as of the date such information is provided and is subject to known and unknown risks, uncertainties, and other factors that may cause the actual results, level of activity, performance, or achievements of the Company to be materially different from those expressed or implied by such forward looking information. This includes the ability to develop and operate the Cosalá and Galena properties, risks associated with the mining industry such as economic factors (including future commodity prices, currency fluctuations and energy prices), ground conditions and factors other factors limiting mine access, failure of plant, equipment, processes and transportation services to operate as anticipated, environmental risks, government regulation, actual results of current exploration and production activities, possible variations in ore grade or recovery rates, permitting timelines, capital expenditures, reclamation activities, social and political developments and other risks of the mining industry. Although the Company has attempted to identify important factors that could cause actual results to differ materially from those contained in forward-looking information, there may be other factors that cause results not to be as anticipated, estimated, or intended. Readers are cautioned not to place undue reliance on such information. By its nature, forward-looking information involves numerous assumptions, inherent risks and uncertainties, both general and specific that contribute to the possibility that the predictions, forecasts, and projections of various future events will not occur. The Company undertakes no obligation to update publicly or otherwise revise any forward-looking information whether as a result of new information, future events or other such factors which affect this information, except as required by law.

Cautionary Note to U.S. Investors:

The terms "mineral resource", "measured mineral resource", "indicated mineral resource", "inferred mineral resource" used in the press release are Canadian mining terms used in accordance with National Instrument 43-101 - Standards of Disclosure for Mineral Projects under the guidelines set out in the Canadian Institute of Mining, Metallurgy and Petroleum Standards. Mineral resources which are not mineral reserves do not have demonstrated economic viability.

While the terms "mineral resource", "measured mineral resource", "indicated mineral resource", and "inferred mineral resource" are recognized and required by Canadian regulations, they are not defined terms under standards in the United States and normally are not permitted to be used in reports and registration statements filed with the Securities & Exchange Commission ("SEC"). As such, information contained in the Company's disclosure concerning descriptions of mineralization and resources under Canadian standards may not be comparable to similar information made public by U.S companies in SEC filings. With respect to "inferred mineral resource" there is a great amount of uncertainty as to their existence and a great uncertainty as to their economic and legal feasibility. It cannot be assumed that all or any part of an "inferred mineral resource" will ever be upgraded to a higher category. Investors are cautioned not to assume that any part or all of mineral deposits in these categories will ever be converted into reserves.

For more information:
Darren Blasutti
President and CEO
416-848-9503

Click here for full drilling results table