2018
---
TORONTO, ONTARIO - June 5, 2018 - Americas Silver Corporation (TSX: USA) (NYSE "American": USAS) ("Americas Silver" or the "Company") is pleased to provide an update on exploration activities at its two operating properties, the 100%-owned Cosalá Operations in Sinaloa, Mexico and the 100%-owned Galena Complex in Wallace, Idaho and a brief update on its new San Rafael Mine. The Cosalá Operations includes the Zone 120 deposit, adjacent to the San Rafael Mine.
Exploration Highlights
Cosalá Operations - Zone 120
Hole SR-435 with multiple intervals including:
Hole SR-438 with 6.20 meters grading 620g/t Ag, 0.75g/t Au, and 1.32% Cu (825g/t AgEq) including 1.05 meters at 1,051g/t Ag, 1.42g/t Au and 2.33% Cu (1,419g/t AgEq)
Hole SR-439 with 5.15 meters grading 166g/t Ag, 0.15g/t Au, and 0.06% Cu (184g/t AgEq)
Galena Complex
3200 Level – Strike extension of Upper Country Lead Zone

Hole 32-055 with 6.65 meters grading 160g/t Ag and 8.20% Pb (488g/t AgEq)
Hole 32-059 with 3.17 meters grading 387g/t Ag and 11.41% Pb (843g/t AgEq)

4300 Level – Vertical extension of the 366 Foot Wall (FW) structure

Hole 43-188 with 24.09 meters grading 107g/t Ag and 5.25% Pb (317g/t AgEq) including 6.83 meters at 158g/t Ag and 8.11% Pb (482g/t AgEq)
Hole 43-189 with 4.57 meters grading 100g/t Ag and 7.26% Pb (391g/t AgEq)
"These excellent drill results at both of our operating complexes continue to expand our silver resources allowing for future low capital and operating cost production," said Darren Blasutti, President and CEO of Americas Silver Corporation, "With the San Rafael mill processing 1,650 tonnes per operating day with further ramp up expected, our cash costs and all-in sustaining costs will continue to reduce over the remainder of the year."
San Rafael Update
The mine and mill continued to make steady progress through the end of May, 2018. Ore production is exceeding mill feed requirements with development into the Main and Upper Zones remaining on plan. The mill is treating 1,650 tonnes per operating day and building consistency at this level; throughput is targeted to reach 1,700 tonnes per operating day by the end of the second quarter.
Cosalá Operations - Zone 120 Exploration Results
Drill results are now available for holes SR-433 through SR-441. Significant intercepts in excess of 100g/t AgEq and with widths greater than 4 meters are shown in Table 1. A complete summary of the drill results can be found on the Company's website at www.americassilvercorp.com.
Table 1: Zone 120 Drill Results

These latest results conclude the planned 12,000 meter drill program at Zone 120. Analysis of data is underway as part of a mid-year resource estimate. The Company has begun evaluating development alternatives for the project with the goal of prioritizing preferred options by the end of the third quarter.
The Zone 120 deposit is characterized by steeply dipping parallel lenses of Ag-Cu-Au skarn mineralization developed in volcanically derived calcareous sediments adjacent to intermediate intrusive dikes and sills. Skarn mineralization is characterized by disseminated chalcopyrite and tetrahedrite. The mineralization is similar to that at Americas Silver's nearby El Cajón mine which has been mined and processed in the past. Mineralization at Zone 120 has been found over an area greater than 500 meters in length, 300 meters in width and down to a depth of 550 meters. Individual lenses have widths up to 60 meters.
Figure 1: Location of Latest Reported Holes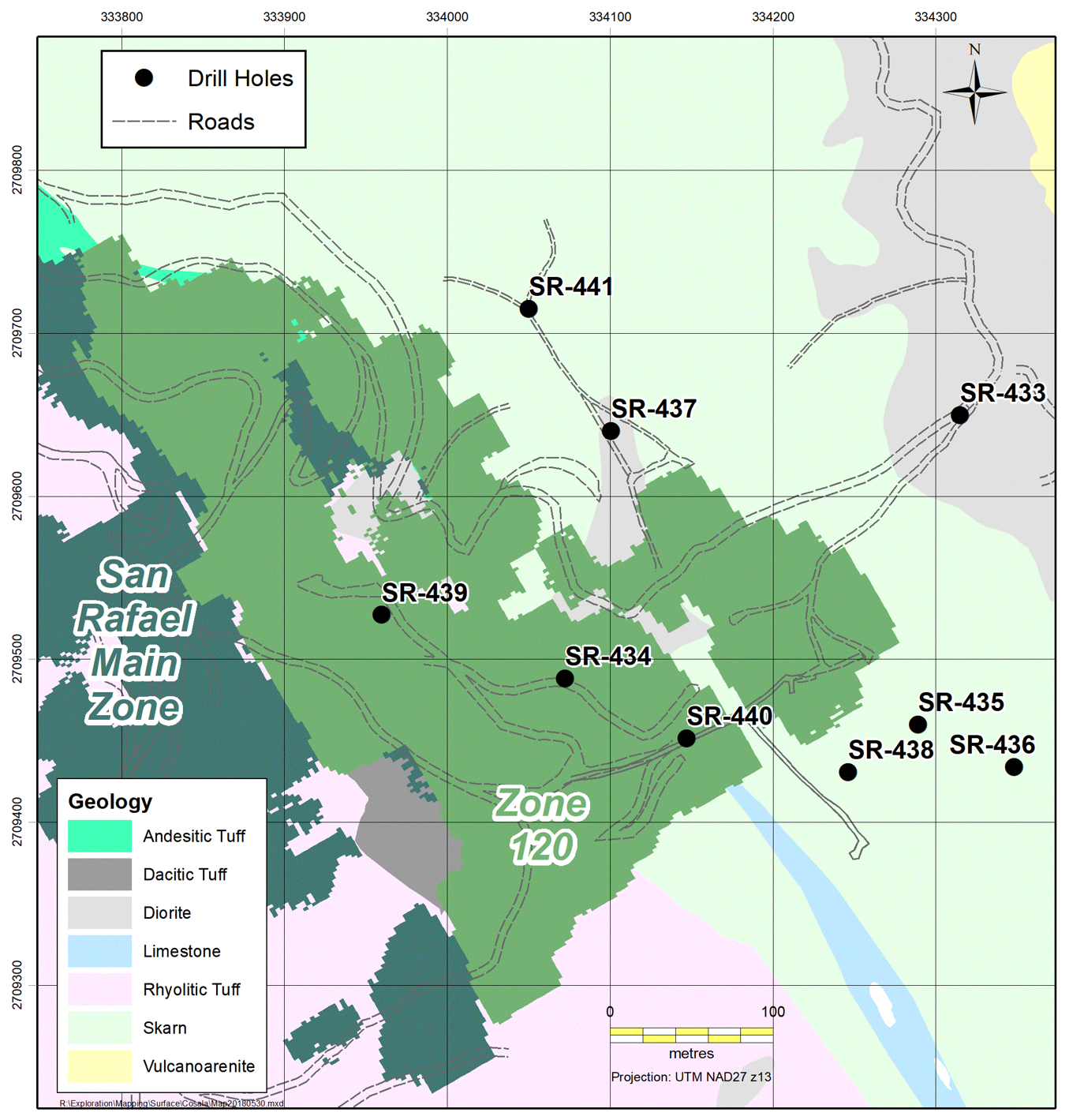 Galena Complex Exploration Results
Exploration drilling at Galena is continuing to successfully expand areas of mineralization near existing underground mine infrastructure. The most recent results have benefited the Upper Country Lead Zone in the 3200 level and identified a possible up-dip extension of the 366 Foot Wall which was mentioned in the press release of April 5, 2018. Significant intercepts for this drilling are shown in Table 2.
Table 2: Galena Complex Drill Results

Development of the Upper Country Lead Zone on the 3200 Level is progressing well. Exploration drifting over the past twelve months has been supported by ongoing diamond drilling to better define and validate the geological model. A total of 391 meters of vein development has identified silver-lead mineralization with an average mined width of 2.6 meters at typical mined grades of 180g/t Ag and 6.2% Pb. Data from the recent diamond drill holes has improved delineation of the eastern extent of the resource and identified new exploration targets along the B-Branch fault zone. Incorporated into the geological model, these drill results have the potential to add a further 362 meters of strike length to the 3200 level exploration project while providing vital structural information to the benefit of production currently sourced from the 3400 level.
The 366 FW zone was first identified in 2017 from drilling on the 4900 Level. Recent drilling from the 4300 Level has identified the possible up-dip extension of this mineralized structure which, if confirmed, could nearly double the size of the zone to approximately 200 meters in height and 180 meters in length and 3.8 meters in width. As presently defined the structure remains open in both vertical directions. Given the zone's proximity to existing underground infrastructure on the 4900 Level, development has reached the area and initial production results have been positive.
Figure 2: Recent Drilling in the Upper Country Lead Zone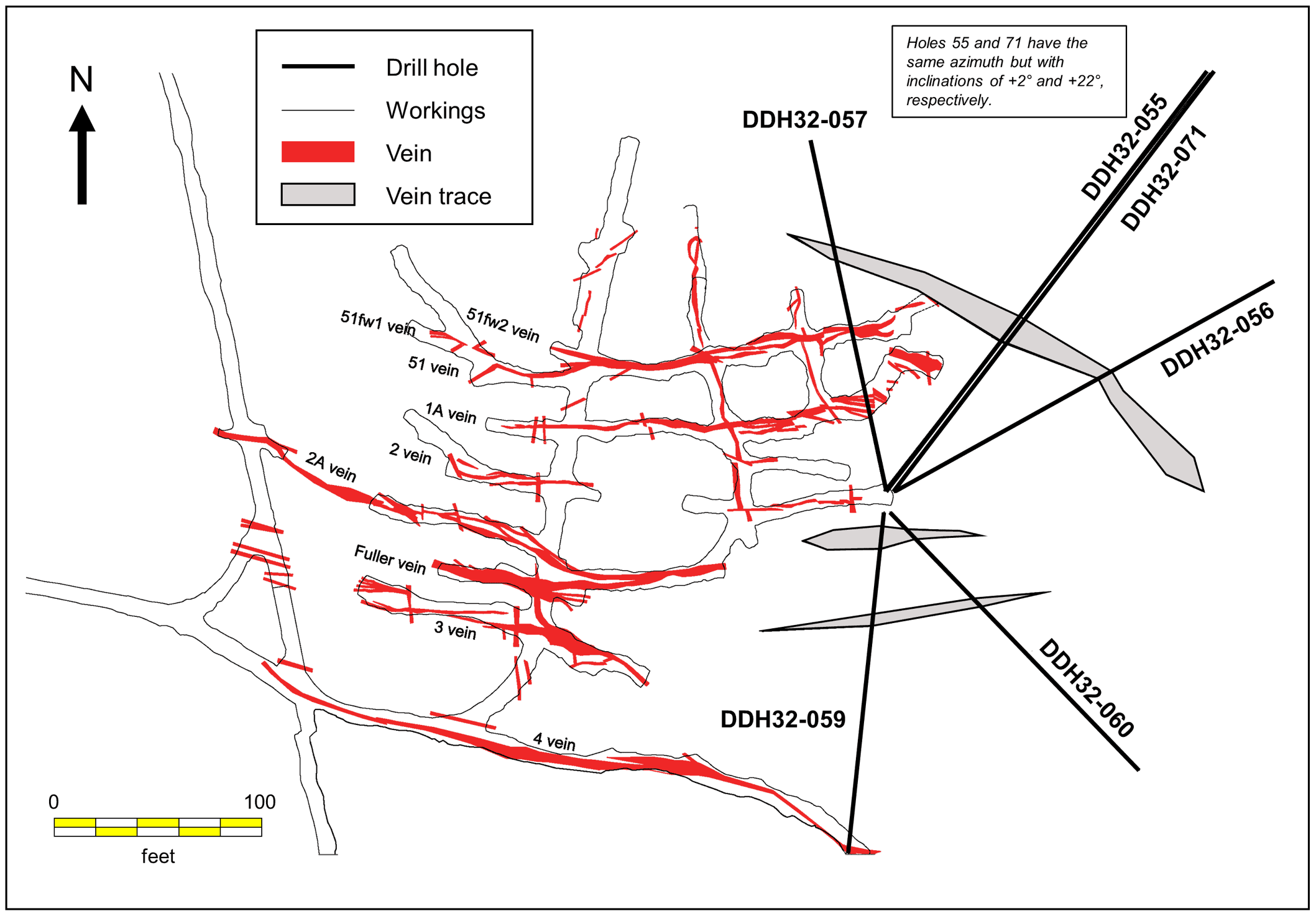 Technical Information
Drill core samples from the Cosalá operations are prepared at the Company's secure facility in Cosalá, Sinaloa. Assaying was done by ALS Chemex Labs in Hermosillo, Sonora.
Drill core samples from the Galena Complex are prepared and assayed at American Analytical Services Inc. in Osburn, Idaho. The Company has a QA/QC program supervised by a Qualified Person.
Daren Dell, Chief Operating Officer and a Qualified Person under Canadian Securities Administrators guidelines, has approved the applicable contents of this news release. For further information please see SEDAR or americassilvercorp.com.
About Americas Silver Corporation
Americas Silver is a silver mining company focused on growth in precious metals from its existing asset base and execution of targeted accretive acquisitions. It owns and operates the Cosalá Operations in Sinaloa, Mexico and the Galena Complex in Idaho, USA. The Company holds an option on the San Felipe development project in Sonora, Mexico.
Cautionary Statement on Forward-Looking Information:
This news release contains "forward‐looking information" within the meaning of applicable securities laws. Forward‐looking information includes, but is not limited to, the Company's expectations intentions, plans, assumptions and beliefs with respect to, among other things, the realization of exploration, operational and development plans, the Cosalá Operations and Galena Complex as well as the Company's financing efforts. Often, but not always, forward‐looking information can be identified by forward‐looking words such as "anticipate", "believe", "expect", "goal", "plan", "intend", "estimate", "may", "assume" and "will" or similar words suggesting future outcomes, or other expectations, beliefs, plans, objectives, assumptions, intentions, or statements about future events or performance. Forward‐looking information is based on the opinions and estimates of the Company as of the date such information is provided and is subject to known and unknown risks, uncertainties, and other factors that may cause the actual results, level of activity, performance, or achievements of the Company to be materially different from those expressed or implied by such forward looking information. This includes the ability to develop and operate the Cosalá and Galena properties, risks associated with the mining industry such as economic factors (including future commodity prices, currency fluctuations and energy prices), ground conditions and factors other factors limiting mine access, failure of plant, equipment, processes and transportation services to operate as anticipated, environmental risks, government regulation, actual results of current exploration and production activities, possible variations in ore grade or recovery rates, permitting timelines, capital expenditures, reclamation activities, social and political developments and other risks of the mining industry. Although the Company has attempted to identify important factors that could cause actual results to differ materially from those contained in forward-looking information, there may be other factors that cause results not to be as anticipated, estimated, or intended. Readers are cautioned not to place undue reliance on such information. By its nature, forward-looking information involves numerous assumptions, inherent risks and uncertainties, both general and specific that contribute to the possibility that the predictions, forecasts, and projections of various future events will not occur. The Company undertakes no obligation to update publicly or otherwise revise any forward-looking information whether as a result of new information, future events or other such factors which affect this information, except as required by law.
Cautionary Note to U.S. Investors regarding mineral resources:
The terms "mineral resource", "measured mineral resource", "indicated mineral resource", "inferred mineral resource" used in the press release are Canadian mining terms used in accordance with National Instrument 43-101 - Standards of Disclosure for Mineral Projects under the guidelines set out in the Canadian Institute of Mining, Metallurgy and Petroleum Standards. Mineral resources which are not mineral reserves do not have demonstrated economic viability.
While the terms "mineral resource", "measured mineral resource", "indicated mineral resource", and "inferred mineral resource" are recognized and required by Canadian regulations, they are not defined terms under standards in the United States and normally are not permitted to be used in reports and registration statements filed with the Securities & Exchange Commission ("SEC"). As such, information contained in the Company's disclosure concerning descriptions of mineralization and resources under Canadian standards may not be comparable to similar information made public by U.S companies in SEC filings. With respect to "inferred mineral resource" there is a great amount of uncertainty as to their existence and a great uncertainty as to their economic and legal feasibility. It cannot be assumed that all or any part of an "inferred mineral resource" will ever be upgraded to a higher category. Investors are cautioned not to assume that any part or all of mineral deposits in these categories will ever be converted into reserves.
For more information:
Darren Blasutti
President and CEO
416‐848‐9503
---
[1] True widths reported.
[2] Silver equivalent grade (AgEq) calculated using metal prices of $18.00/oz Ag, $1,300/oz Au, $1.05/lb Pb and $3.00/lb Cu